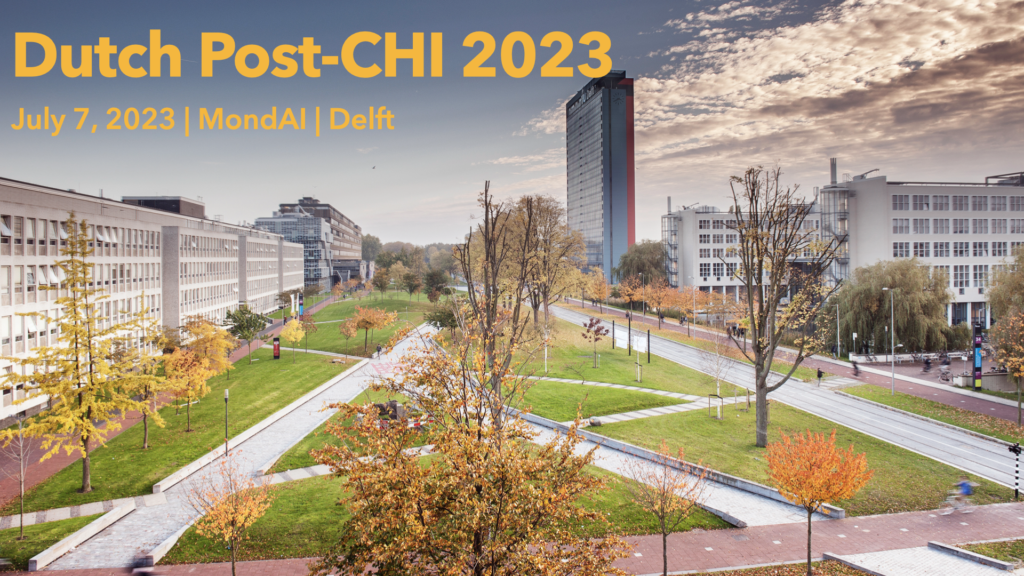 The Dutch Post-CHI 2023 event will take place in person at Mondai @ TU Delft in Delft on Friday, July 7, 2023, followed by an evening program.
---
What is this Dutch Post-CHI event?
Following the global spirit of meeting fellow HCI folks within a local region, this year CHI NL aims at bringing the HCI community in the Netherlands together after CHI 2023. The goal is to provide an opportunity for researchers to present and discuss their accepted CHI 2023 works in a smaller and cozier manner than what the enormity and madness of the CHI ship allows. We are currently still developing the program, but this will include:
CHI 2023 presentations / posters / demos
Keynote by a surprise guest
HCI outreach talks (on topics related to CHI Netherlands, trends within CHI, industry focus, etc.)
Informal social chat and networking + borrel 🙂
Join us for a full day event of exciting CHI 2023 talks, networking, and collective reflection with fellow HCI researchers in the Netherlands. Everyone from students to professors to industry practitioners to artists is welcome.
Registration for the event is free for all. In addition, we will provide financial support for travel expenses for students attending the event and traveling from within the Netherlands. The reimbursements will be processed after the event, so please keep your tickets and proof of payment.
Accepted CHI 2023 Contributions
The annual ACM CHI Conference on Human Factors in Computing Systems was held in Hamburg, Germany from April 23–28. As always there are contributions from around the world, including with authors with affiliations in the Netherlands. You can find all the accepted contributions from Dutch universities below.
How to participate
Anyone is free to attend, without being required to submit or present anything. Also, registration for the event is free for all.
If you wish to present, your presentation(s) can be informal, and we won't ask you to invest any extra effort on top of what you have already done for the CHI conference. Feel free to re-use existing slides or a poster, or just free-form talk about your work and answer questions.
Please register by clicking on the following link.
Travel Reimbursements
Students (enrolled in Bachelor, Master and PhD programs) traveling to Delft from within the Netherlands can apply for a reimbursement of their travel expenses after the event, please keep your tickets and proof of payment. These reimbursements will be made only for second class train tickets.
Program
10:00–10:30
Meet and Greet + Welcome Coffee
10:30–11:00
Opening & CHI.NL Introduction
CHI.NL
11:00–11:45
Keynote I: Prof. Katrien Verbert (KU Leuven)
Chair: Karin Slegers
11:45–12:45
Pecha-Kucha Session
All
12:45–13:45
Lunch Break
13:45–14:25
Discussion: Dealing with the reviewing crisis (in HCI) and how to review?
Moderator: Agathe Balayn
14:25–15:00
Discussion: How can we be a better CHI community?
Moderator: Minha Lee
15:00–15:15
Coffee Break
15:15–16:00
Social Event: Pub Quiz
Chairs: Alejandra Gomez, Esra de Groot,
Uğur Genç
16:00–16:45
Keynote Talk II: Prof. Judith Masthoff (Utrecht University)
Chair: Katja Rogers
16:45–17:00
Closing
Ujwal Gadiraju & Himanshu Verma
17:00–18:00
Borrel
Keynotes
Prof. Katrien Verbert (KU Leuven)

Title: Human-centered XAI: how can we improve explanations for non-expert users in AI

Abstract: Despite the long history of work on explanations in the Machine Learning, AI and Recommender Systems literature, current efforts face unprecedented difficulties: contemporary models are more complex and less interpretable than ever. As such models are used in many day-to-day applications, justifying their decisions for non-expert users with little or no technical knowledge will only become more crucial. Although several explanation methods have been proposed, little work has been done to evaluate whether the proposed methods indeed enhance human interpretability. Many existing methods also require significant expertise and are static. Several researchers have voiced the need for interaction with explanations as a core requirement to support understanding. In this talk, I will present our work on explanation methods that are tailored to the needs of non-expert users in AI. In addition, I will present the results of several user studies that investigate how such explanations interact with different personal characteristics, such as expertise and need for cognition.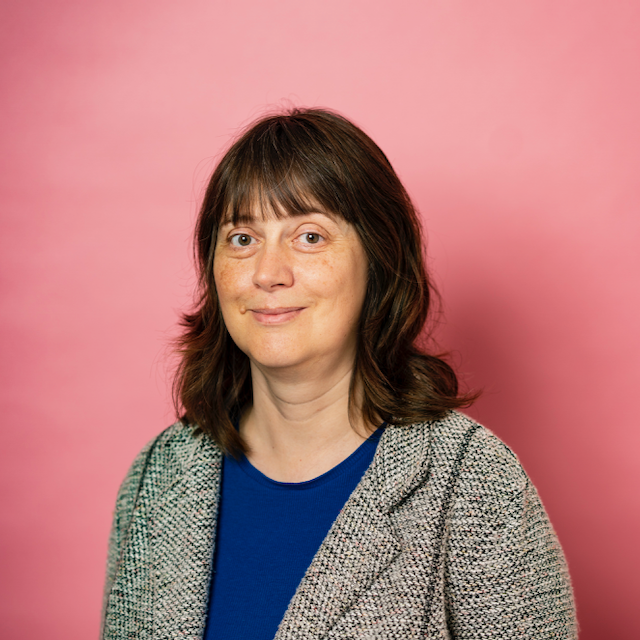 Prof. Judith Masthoff (Utrecht University)

Title: Where HCI meets AI
Practical Information
Dutch Post-CHI 2023 Event will be held at Mondai | TU Delft between 10:00-18:00.
Organization
EventCHI Team
Ujwal Gadiraju – TU Delft
Himanshu Verma – TU Delft
Alejandra Gomez Ortega – TU Delft
Ugur Genc – TU Delft
Esra de Groot – TU Delft
Local Chairs
Ujwal Gadiraju – TU Delft
Himanshu Verma – TU Delft
Code of Conduct
Read our Code of Conduct.
Contact
For any additional questions, please contact the EventCHI NL team (U.K.Gadiraju[AT]tudelft.nl or H.Verma[AT]tudelft.nl).